In Deutsch
In Deutsch
Osterhöhle
Easter Cave
Useful Information
Location:
Leave A9 at exit Lauf/Hersbruck, follow B14 East, right before Sulzbach-Rosenberg a small road at the left leads to Trondorf. Follow signposts through Trondorf to the Wanderparkplatz (parking lot). 5 min (200m) walk.
Open:
Easter to October, Sun + Hol 14.
Waldschänke (Biergarten): Easter to October, Sat 14-24, Sun+Hol 10-20.

Fee:
Adults EUR 2,-, Children EUR 1,50.

Classification:
Karst cave, Malm (Dolomite)
Light:
electric torches provided
Dimension:
L=185m.
Guided tours:
L=130m, VR=30m, D=30min.
Photography:
Accessibility:
Bibliography:
Günter Schneider (1988): Allgemeine Beschreibung zur Lage, Geschichte und Geologie der Osterhöhle, Tagungsband, 33. Tagung des Verbandes der deutschen Höhlen- und Karstforscher, Neukirchen 1988. ()

Address:
Waldschänke Osterhöhle, Neidsteiner Str. 8, 92259 Trondorf-Neukirchen, Tel: +49-9663-1718.
Gabriele Suttner, Hauptstr. 30, 92268 Etzelwang, Tel: +49-9663-200600. E-mail:
As far as we know this information was accurate when it was published (see years in brackets), but may have changed since then.
Please check rates and details directly with the companies in question if you need more recent info.
Last update:
$Date: 2015/08/30 21:53:38 $
History
800 B.C.
people of the Hallstadt culture visited the cave, remains were found near the entrance.
1630
first mentioned.
1783
named in the book Die Beherrscher von Sulzbach by Leinberger.
1789
named in the Beiträgen zur Urgeschichte Sulzbachs by the princely medicus and historiographer Schleiß von Löwenfeld.
1905
artificial entrance constructed, natural entrance (pothole) closed by an iron gate, Waldschänke (restaurant) built.
1935
contruction of the Waldschänke restaurant as it is today.
Description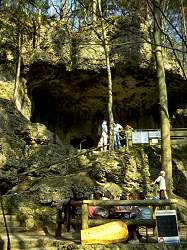 Image: entrance portal with Biergarten.
When you approach through forest to the rocks and ckiff faces, the first thing you will mention is the romantic Waldschänke. A small blochouse, built against the cliff right below the cave entrance. The entrance is covered by a 9m wide and 12m high rock shelter. There is also a naturaal entrance, a narrow shaft above todays entrance. It was grilled after the artificial entrance tunnel was built. It is now used only by bats.
This cave is pretty dark, which is mainly a result of the dark black walls. Nevertheless, the fact that this cave is visited with carbide lamps, will not make this a well lit tour. But thats exactly what makes this cave so special: it is one of the last show caves in Germany without electric light. There is only one other, the
Schellenberger Eishöhle, which will probably never be electrified as it is an ice cave.
The first assumption about the black cover of the walls and speleothems is grime. And really, this cave was visited over centuries with light sources like torches, carbide lamps, oil lamps, or candles. But a chemical analysis revealed that it consists mostly of manganese. Manganese is very common in this limestone, although it is very rare, but it is dissolved by the grond water and then forms thin covers on the rocks. Even layers of a fraction of a millimetre are already completely dark black. There are often single rocks found, which look black, but are completely white inside, but it is rather rare that complete caves are covered by manganese. However, this caves was almost black even before the first human visitor entered it.
See also
Custom Search

Maps
Alphabetical Index
Contact showcaves.com:

General Information