Špilja Biserujka
Vitezić Špilja - Slivanjska
Pearls Cave - Knights Cave - Slivanjska Pothole
Useful Information
Location:
Island Krk. From the main road Omišali-Krk turn east at Rasopasno. Foloow road over Tribulje, Čižići to Rudine. 300m southwest of Rudine.
Open:
APR daily 10-15.
MAY to JUN daily 10-17.
JUL to AUG daily 10-19.
SEP daily 10-17.
OCT daily 10-15.
[2011]
Fee:
Adults HRK 20, Children (5-12) HRK 12, Children (0-4) free.
[2011]
Classification:
Karst cave
Light:
electric
Dimension:
L=110m, VR=3-5m, A=50m asl, T=10-13°C,
Guided tours:
L=110m, VR=3-5m, D=15min.
Photography:
Accessibility:
Bibliography:
Address:
Biserujka Špilja, Šilo Turist, Na Vodici 2, 51515 Šilo, Tel: +385-51-852-203, Cell: +385-98-326-203, Fax: +385-51-852-203. E-mail:
Info: Cell: +385-98-211-630.
As far as we know this information was accurate when it was published (see years in brackets), but may have changed since then.
Please check rates and details directly with the companies in question if you need more recent info.
Last update:
$Date: 2015/08/30 21:55:41 $
History
1998
opened to the public.
Description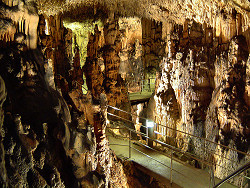 Image: Biserujka Cave inside view.
Špilja Biserujka (Biserujka Cave) is located above the bay of Slivanjska. The huge entrance was known for centuries and was the reason of local legends of smugglers, which used it as a hideout. According to a legend the smugglers hid a treasure in this cave, and so it was called Biserjuka. Biser is the croatian word for pearl.
See also
Custom Search

Maps
Alphabetical Index
Contact showcaves.com:

General Information