Parco Grotta Cascata Varone
Useful Information
Image: at the entrance of the gorge.
© Armin Schmid, 2009.
History
Description
Image: the lower end of the waterfall.
© Armin Schmid, 2009.
The Parco Grotta Cascata Varone is actually not really a cave, despite the grotta in the name. It is a sort of gorge, washed into the rock by the erosion of a river. The main difference between a cave and a gorge is generally the fact that there is no ceiling. On the other hand there are potholes, shafts open to the surface, which also do not have a ceiling and nevertheless they are easily regarded to be a cave. We decided to call it a show cave, as it is actually at the border of being a cave, and it is definitely operated like a show cave.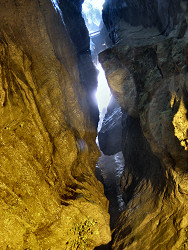 Image: view up from the lower outlook.
© Armin Schmid, 2009.
The gorge is entered through a building from the early 20th century, created by the architect Maroni, who was of some regional fame at this time. He also built the villa in Gardone where Gabriele D'Annunzio lived. An archway leads to trails which enter the gorge leading to the waterfall, the cascata. There are two different outlooks, a lower one called Grotta Inferiore (Lower Cave) which shows the floor of the gorge and the lower end of the waterfall. The second is 40m higher and consequently called Grotta Superiore (Upper Cave). It shows the full length of the waterfall. Trails with iron bar handrails lead to the outlooks, made of steel and concrete.
The gorge and the waterfall are a result of the Ice Ages. During the cold time, the valley was filled by a glacier who deepened the valley floor. However, the small tributary had no glacier and was not deepened. As a result, after the Garda glacier had gone, the Lower Sarca Valley was much deeper than all its side valley. This is a common thing in the Alps and thus many gorges were formed similar to here, by water flowing town the step from the side valley into the main valley. If the step is very sharp, like here, there is a waterfall at first which later cuts back into the step. The river cut fast into the rock at the top, then the gorge widens which means a slower rate of downcut. This is actually typical, as the river lowers its bed and the gradient becomes smaller.
However, here is the specialty of this place: while other gorges soon cut through the barrier and the river at the bottom flows without forming big waterfalls, here the waterfall gradually made its way back into the rock. Dhe bottom of the fall is 55m from the entrance of the gorge. At the top it is 73m from the entrance. The whole underground waterfall is 98m, which is really impressive.
Parco Grotta Cascata Varone Gallery
See also
Custom Search

Maps
Alphabetical Index
Contact showcaves.com:

General Information