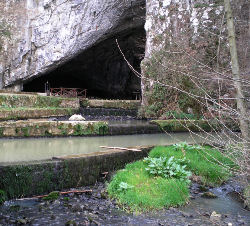 Image: the entrance of Petnicka Pecina.
Photographer: unknown. This picture is public domain from
commons.wikimedia.org.
Petnicka's Cave is a resurgence and the strong spring that flows out of is called the Banja. The cave consists of eleven chamber the largest is called The Concert Hall. Daylight filters into it through two openings in the roof of this chamber. The Dragon's Hall has a pool in it (20 m long, 10 m wide and 8 m deep) whose water level varies. Petnicka's cave was inhabited by Palaeolithic man and it contains a rich archaeological deposit with the remains of Ice Age fauna. The first excavations were carried out over a century ago
Until recently, the cave had a very neglected look about it, but in 2001 the cave was given a facelift and now has quite a modern air about it.
Text by Tony Oldham (2002). With kind permission.