Timpanogos Cave National Monument
Useful Information
Image: the Heart of Timpanogos.
Location:
In the Wasatch Mountains. Exit I-15 North or South at Hwy. 92. Follow Hwy. 92 east 16km.
Open:
Mid-MAY to mid-OCT daily 7-17:30, first tour 9. Weather permitiung. [2006]
Fee:
American Fork Canyon Entrance Fee: per vehicle $3 (necessary to reach the cave).
Adults $7, Children (6-15) $5, Children (3-5) $3, Children (0-2) free, Golden Age/Golden Access $3.50.
Introduction to Caving Tour: per Person (14+) $15.
Sold at visitor center, not at cave.
Prebooking recommended, tour tickets may be purchased up to 30 days in advance.
[2006]
Classification:
Karst cave.
Light:
electric.
Dimension:
Guided tours:
L=800m, D=60min. Walk from Visitor Center to cave: L=5,630, D=180min.
Introduction to Caving Tour: D=90min.
V=105,014/a [2004]
Photography:
Accessibility:
Bibliography:
George V Martin (1973): The Timpanogos Cave Story, 64 pp, illus., Hawkes Publication, Utah.

Address:
Superintendent, Timpanogos Cave National Monument, RR 3, Box 200, American Fork, UT 84003, Tel. +1-801-756-5239.
Visitor Center/Information: +1-801-756-5238.
As far as we know this information was accurate when it was published (see years in brackets), but may have changed since then.
Please check rates and details directly with the companies in question if you need more recent info.
Last update:
$Date: 2015/08/30 21:59:28 $
History
1887
Martin Hansen, a Mormon settler from American Fork, Utah, accidentally discovered the first cave.
1915
Timpanogos Cave was discovered, but for some reason knowledge faded again.
14-AUG-1921
Timpanogos Cave was rediscovered.
1930s
tunnels between three nighbouring caves built.
10-AUG-1933
caves become a National Monument.
Description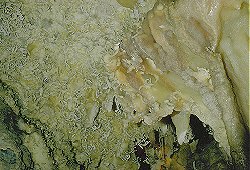 Image: stalactites with helictites.
From the parking lot on the ground of American Fork Canyon you walk about 45min. uphill. From the Visitor Center the trail climbs 324m over a distance of 2.4 km. This walk offers spectacular views of Wasatch Mountains and Utah Valley. Tickets are sold only at the Visitors Center, so do not walk to the cave without.
Timpanogos Cave has three small, well decorated caves called Hansen, Middle, and finally Timpanogos Cave, connected by manmade tunnels. The most famous formation is the so called Heart of Timpanogos, a stalactite shaped like a heart. But the tiny white, pink, yellow and green translucent crystals covering walls and ceiling are much more interesting. This colour is caused by small amounts of different metals like copper, iron and tin in the surrounding rocks. Many of the crystals are Helicites, dripstone with fantastic shape.
See also
Custom Search

Maps
Alphabetical Index
Contact showcaves.com:

General Information